We are delighted to announce that we have joined forces with Ecologi to become a climate positive workforce. Sustainability is at the heart of the baby esmée mission. We want to do everything that we can to protect biodiversity, to turn the tide on environmental destruction and to put the brakes on the climate crisis.
So what is Ecologi?
Ecologi was founded by three friends in Bristol who were tired of waiting for politicians to solve the climate crisis. They believe that with a small contribution each month, an incredible impact can be made in reducing carbon footprints. As an individual or a business, you can offset your carbon footprint by paying a monthly subscription to Ecologi. Businesses that sign up to Ecologi become 'climate positive workforces'. This means that each employee has their entire carbon footprint offset, including 'emissions from their home, personal travel, holidays, food, hobbies and more'.
Projects helping people and planet
Alarmingly, from 1990 to 2015, 502,000 miles of the world's forests were lost. That is an area larger than South Africa or equivalent to 1,000 football pitches per hour. Conservation and reforestation are incredibly important for numerous reasons. Forests absorb harmful greenhouse gases and provide habitats to over half of all land-based animals.
Ecologi funds projects that plant trees and reduce carbon emissions worldwide. Ecologi supports Eden Reforestation Projects who employ local villagers in countries such as Madagascar to both restore forests and combat poverty. As a result of the economic benefits and ownership for these communities, the forests are protected for years to come. For instance, at least 10% of all trees that are planted benefit the needs of the local communities by providing goods such as food.
Ecologi's carbon reduction projects are certified by the Climate Security and Sustainable Development Gold Standard. This ensures that funding from Ecologi's members goes as far as possible in achieving climate and development goals. Clean energy projects are providing wind, solar, geothermal and hydropower production. Meanwhile, clean water sources are being secured in communities in Malawi, Haiti and Eritrea. It is vital that tackling the climate crisis also improves the quality of life of the least well off. On each Ecologi project page, you can find out how they are in line with the United Nations' Sustainable Development Goals. These goals include good health, good jobs and economic growth, and clean water and sanitation.
We donate to Ecologi so people like you can help take on the climate crisis
Our collective home is in the process of being turned totally upside down which is leading to strife for almost all life on Earth.
We know it's preventable. And we know it's not going to save itself.
So, it is up to us to solve it. But what levers can we pull? Reducing our carbon footprint is entirely necessary, but the transition of change is far slower than the time we have remaining.
The tools that we associate with fighting climate change are inadequate. What if that changed and the billions of us who care became empowered?
There are enough climate solutions that are out there right now, that if we supported them, it'd undo 30 years of carbon damage by avoiding 1,500 billion tonnes of CO2.
This is our opportunity.
How does Ecologi work?
Sign up to Ecologi
Compensate your carbon footprint
Fund climate projects
Set yourself eco goals
All captured on your profile
Sign up to Ecologi
Compensate your carbon footprint
Fund climate projects
Set yourself eco goals
All captured on your profile
We have planted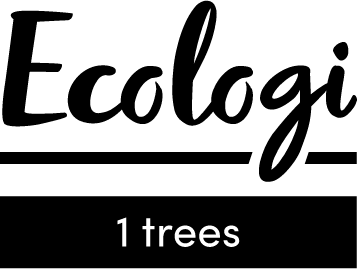 Tree planting
It's now common knowledge that one of the best tools to tackle the climate crisis and keep our temperatures from rising above 1.5C is to plant trees. They are also crucial to preventing ecological collapse.
Our tree planting partner The Eden Reforestation Projects plant millions of trees around the world each month. We are currently supporting their incredible work in Madagascar.
Carbon reduction
At Ecologi we invest your money into projects that remove more greenhouse gasses than your own carbon footprint puts in.
Each month we support a range of carbon reduction projects that are certified at the very highest level by Gold Standard and equivalent.
Check out the projects we've supported to date.
Where does your money go?
Profit is measured in impact, and this is reflected in how money is spent. 85% of the money goes directly to funding these planet saving projects. Included with project costs are any incurred transaction fees that are carried out.
With the rest we'll cover everything else including a budget to attract new subscribers, staff costs, and hosting and licenses.